"I'm A Boring Guy, Most Of The Time"
July 6th, 2014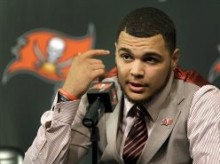 It sure seems like the great Bucs receiving hope, rookie Mike Evans, is not the kind of guy who will live in a fancy rented house with a bunch of friends and family, launch a rap group, install a stripper pole, and host blowout house parties culminating in the front lawn looking like Tempur-Pedic showroom.
No, Evans likes quiet.
In this NFL.com video titled "Rookie Confessional," Evans gives his impressions of "quiet" Tampa and says that suits him perfectly. "I'm a boring guy, most of the time," he said.
The video also shares other nuggets and, overall, sort of reinforces that Evans is a boring guy.
And that's just fine. All Evans has to do is catch the football like Mike Williams did during his rookie year, and Tampa Bay fans will sleep awfully well at night and gobble up Evans jerseys like Joe eats Tums while watching film of the 2012 Bucs secondary.