"He Wants To Prove You Can Still Win 17-14"
July 22nd, 2014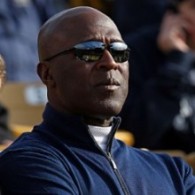 It's been made very clear that the Bucs will be playing old school, Tampa-2 defense under Lovie Smith.
Most Tampa Bay fans pray the hire of offensive coordinator Jeff Tedford means the Bucs won't be delivering old school Tony Dungy offense, but don't count on it.
That's the word from noted NFL and Bucs scribe eye-RAH! Kaufman, of The Tampa Tribune.
"I think the way Lovie wants to win it … he wants to prove you can still win 17-14 football games. I don't know that you can, but he's going to give it a heck of a shot," Kaufman told Steve Duemig on WDAE-AM 620 yesterday.
What that really means is unclear. Kaufman went on to say the Seahawks Super Bowl win reinforces Lovie's philosophy.
But that's almost hard for Joe to believe, based on how the Bucs approached building their offensive line this season.
Seattle had the No. 4-ranked running attack. Does Lovie expect to pound the rock like the Seahawks behind such a suspect O-line? It'll be fun to watch this all develop.
You can listen to the entire Kaufman-Duemig conversation below. Very entertaining.