Dominik Wants Florida Pro "Bus League"
July 8th, 2014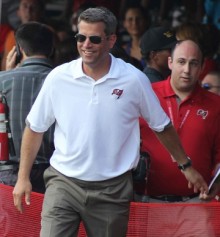 It sure sounded like former Bucs rock star general manager Mark Dominik is lobbying to be commissioner of a new NFL developmental league.
Speaking last night on SiriuxXM NFL Radio along with co-host Howard Balzer, Dominik made a powerful case for a "March, April" league that would give potential NFL players and bottom-of-the-roster talent some experience and top coaching.
Dominik said a six-team Florida "bus league" playing and practicing on grass would be an ideal situation. It would keep costs down for the NFL, Dominik said, versus the "more than $1 million per club" spent on NFL Europe years ago.
Dominik suggested the NFL could have a central facility that would house and train up to six teams, and the teams could represent cities around the state and play home games in locations like Tallahassee, Tampa, Jacksonville, Orlando, etc.
How serious was Dominik? "It's not a need. It's a must," he said.
The NFL Radio audio of Dominik below is interesting. Joe's all in favor of this idea. Joe would love the idea of drinking beer on a March Saturday night watching, say, Steven Means try to decapitate Matt Barkley.