Did The Bucs Have A One-Legged Guard?
July 12th, 2014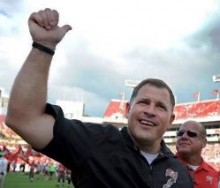 As if memories of the 2013 Tampa Bay season aren't enough to send Joe to 7-11 for a Slurpee to pour Vodka into, reading a new story penned in the St. Louis Post-Dispatch has Joe in need of something stronger.
New Rams guard Davin Joseph, last year's Bucs captain, talked about his new start in the NFC West.
You can catch Joseph's thoughts and more via the link above, but it was something Rams O-line coach Paul Boudreau said that has Joe banging his head against a wall.
There's no way the Rams would've gotten Joseph for the relatively modest price they did, without the right knee surgery coupled with the staph infection. In fact, Joseph might still be in Tampa Bay.

"When he came in for the visit, his (right) leg was like half the size of a normal leg," Boudreau said.

When Boudreau watched tape of Joseph against Rams defensive tackles Michael Brockers and Kendall Langford in last year's game against Tampa, Boudreau said, "you could see he was playing on one leg."
Again, there's more in the story. But keep in mind Joseph made the referenced free agent visit to the Rams in March, 2 1/2 months after the Bucs season. Joseph takes great care of his body. If his leg looked that weak in March, then Joe can only imagine how screwed up it was during last season.
So that begs the question, what the hell was Joseph doing on the field last year starting in every game if he was in such poor shape? What was the New Schiano Order trying to accomplish? How exactly were they developing talent in a season that clearly was lost?
In 2012, Jamon Meredith played rather well filling in for Joseph. Where was he? And why the heck didn't former rockstar general manager Mark Dominik get more guard talent on the roster last summer, given the pre-MRSA injury to Carl Nicks and Davin Joseph having his leg atrophied by an infection?
Joseph's film was ugly last season. On rare occasion, he looked like an average right guard. Joe actually ran into a high-ranking Bucs official shortly after Joseph was cut this year, and the Bucs official told Joe that Joseph's game tape was so bad it could be career ending.
Knowing paying fans were treated to a guy who didn't belong on the field will always make Joe ill.