Derrick Brooks Says Dial Back Expectations
July 21st, 2014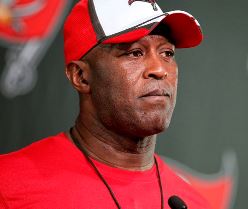 Fans might want to hit the brakes when it comes to anointing the 2014 Tampa Bay defense great.
That's the message from soon-to-be Hall of Famer Derrick Brooks.
It seems Brooks has been diving into comments sections of Bucs blogs and is shaking his head when he reads the expectations of what Lovie Smith can pull off immediately.
"This is their first year in a structured system. I know some of our fans, reading the comments, I hope they don't expect these guy to pick up where we left off in this defense," Brooks said on WDAE-AM 620. "We went through some growing pains to get to that success. These young men are going to go through some growing paints to understand that. The system they've played in thus far has not been as structured as this system requires you to be. So they've got to go through those playing growing pains, and the quicker they get past that, I think they'll be alright. Obviously, the talent level, what they bring is tremendous."
Brooks said he's anxious to see if Gerald McCoy and Lavonte David can forge a key bond and chemistry within Lovie's defense, and he said he hopes Team Glazer and company will find a way to keep the top cogs of the defense together over time.
Brooks' point is wise. Even after the December collapse of 2008, the Bucs still had a top-10 defense that season, the last for Monte Kiffin and Brooks in Tampa Bay. To expect greatness out of the gate from the Bucs defense is a tall order.
Now Joe's not worried about the Bucs defense at all, but a lot will have to come together in a hurry for it to be elite. With a brutal schedule to start the season, Joe's just hoping the Bucs can do enough in all phases of the game to stay in the hunt while everything comes together in Year 1 of Lovieball.