Coach Earnest Graham
July 10th, 2014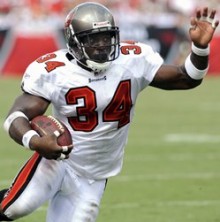 Down in Southwest Florida, where Earnest "Insurance" Graham was a high school star who ran off from there into Florida Gator history, Mr. Graham has returned and is super active in the community.
Graham is involved in all kinds of charity events and is a frequent speaker all over town on various levels.
In fact, Graham even has a full plate this weekend, being honored by a charity tomorrow night, where he'll join fellow local Sammy Watkins on the big stage.
But in addition to his insurance company and other ventures, Graham, 34, has gone back to his roots, taking over the North Fort Myers High School football program.
You can enjoy head coach Graham in the video below.
Chucky approves of Graham's latest effort.
"Anyone who knows me knows Earnest is one of my all-time favorite players," Gruden said. "He's into thorough preparation. I just hope that every kid in the school goes out for football to say they played for Earnest Graham. He's got a tremendous ability to get along with people, to teach and to motivate.
"Times are different now. Coaching needs guys like him. It just fires me up to hear that he's in the profession and taking over a program of this stature and helping to re-establish them as a force in the state of Florida."