Bucs Ranked 26th But "Better"
July 10th, 2014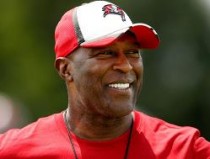 There are Super Bowl and division title prognostications for the Bucs. And then there's the butt end of national fortunetelling.
The folks at ProFootballTalk.com, specifically Hall of Fame voter Darin Gantt, have the Bucs forecast residing in the tush of the NFL.
Gantt sees the Bucs as instantly improved based on the presence of Lovie Smith but currently stymied by their status as fourth best team in the NFC South. The Bucs' official preseason power ranking on ProFootballTalk.com is No. 26.
In another division, the Bucs prospects would be much brighter.

But for all the changes elsewhere, they're battling against proven programs with recent success.

If McCown is able to maintain the kind of clean play he gave the Bears last year, they have a real chance to make strides. He has a respect level among players and an underrated athleticism, so there's a chance he could make them stable.

That might be all they need, as Smith should make the defense better by scheme alone.

Schiano was overmatched in the pro game, and his lack of any kind of interpersonal skills made it worse. You can only play the Bill Belichick tough-guy act if you win, and Schiano never did.

Smith doesn't have an act, he's simply a good coach. That's enough to make the Bucs better in a hurry.
There's much more to the preseason breakdown via the link above.
Is Tampa Bay really the seventh worst team in the league? Crap, a correct call here would leave the Bucs with the No. 7 overall pick and, likely, a four or five-win season. Joe can't stomach that thought.
Lovie Smith was absolutely clear in January shortly after his hire. It might have been the deepest look into the head coach's mindset Bucs fans have seen: "If you play great defense, you can win eight games. If you have great special teams, you can win 10. From there, you need offense," Lovie said.
Joe isn't ready to predict the Bucs' season, but they're better than 26th best in the NFL.