Bucs Negotiate Settlement With Carl Nicks
July 25th, 2014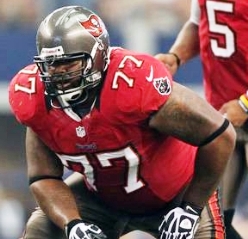 There's a reason Carl Nicks hasn't reported to training camp.
Agents, lawyers and team officials have been finalizing the end of Nicks' Tampa Bay career behind the scenes. And now it's over.
The Bucs announced the move this evening. Nicks appears to be retiring from football, saying he will "step away from the game."
FOXSports.com reported seven months ago that Nicks was getting conflicting medical opinions and may never be able regain his Pro Bowl form following multiple foot surgeries, one for a serious turf-toe-like condition in 2012, and then one last year for a MRSA infection.
There was hope for Nicks would be playing season, especially after Lovie Smith told reporters last month that Nicks passed his physical and was expected to be healthy and ready for training camp. Just this week, on Wednesday, Bucs general manager Jason Licht said Nicks had lost weight and was progressing and expected to report to camp yesterday. But Nicks was granted an excused absence at the 11th hour by Bucs officials.
Per last year's FOX report, Nicks is slated to earn $7 million in base salary in 2014, $6 million of which is guaranteed for injury only.
But how is "injury" defined? Especially, when a guy had a surgery related to MRSA, which he could have contracted anywhere?
That gray area between healthy and unhealthy is likely what prompted Nicks and Bucs to enter into talks and a deal today. Nicks told Joe and other reporters last year that his initial surgery left him with a lifetime of chronic pain and the only question was how he would be able to manage it.
Joe certainly can't blame Nicks for not wanting to test his foot under the rigors of NFL football, especially if he might only be able to play at, say, 80 percent of what he once was.
Regardless, the Carl Nicks era is over, further highlighting the question marks on the Bucs' offensive line.
"I know this has been a difficult time for Carl and his family, but we respect his decision and thank him for his effort in trying to get back on the football field," said Buccaneers General Manager Jason Licht. "Carl is a very prideful athlete and has been an elite level guard in the league.  We are all disappointed that he will not be a part of this new chapter of Buccaneers football."