Secret Weapon
June 27th, 2014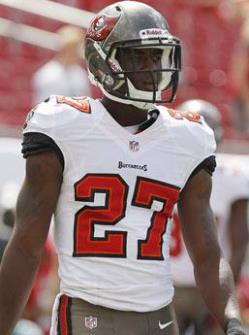 Every good team has one or two players, or perhaps more, who surprise fans and play truly great football. It happens to every good team every year.
Take when the Bucs won their Super Bowl. Wide receiver Joe Jurevicius was a No. 3 receiver. But down the stretch, Jurevicius played like a No. 1 receiver. Who will ever forget his big time catch-and-run against the Beagles in the NFC championship game that set up the Bucs' first touchdown?
After some research, NFL writer Vinnie Iyer of the Sporting News decided to select a 2014 secret weapon from every team, and he has claimed second-year cornerback Johnthan Banks as the secret weapon for the Bucs.
Tampa Bay Buccaneers: CB Johnthan Banks

The Bucs are loaded with defensive playmakers at every level. In the secondary, safeties Mark Barron and Dashon Goldson are relied upon to be the hard-hitting backbone. But post-Darrelle Revis, Banks is the ballhawking corner to watch, a perfect fit in Lovie Smith and Leslie Frazier's cover-2 zone.
Joe knows there are a few Bucs fans out there that hate Banks and Joe has no earthly idea why. Just because some fans see a player they recognize on another team or in free agency does not mean that player is any better. Joe guesses that's why Banks detractors don't like him.
Look, Banks was a rookie last year. Rookie corners rarely play at an All-Pro level. When needed, Banks played well if not very good. Anyone remember when Darrelle Revis got hurt against Detroit and Banks had to cover Calvin Johnson? Banks shut the All-World, future Hall of Famer down.
Joe is bullish on Banks. Having an old secondary coach like Lovie Smith as a head coach should do wonders for Banks' development.
By the way, this year marks the seventh straight season Banks has had a new defensive coordinator. He had four defensive coordinators in his four years at Mississippi State.