Might The Bucs Be Shopping?
June 9th, 2014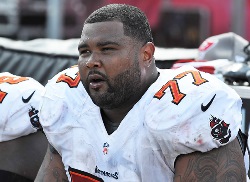 The gem Joe found over the weekend, where John Madden believes most teams in today's NFL don't fret much over their offensive lines, looking to only block the two A-gaps and unload the ball quickly, sure seems that describes what the Bucs are building on offense.
Sure, the Bucs signed Evan Dietrich-Smith. He's a damn fine center and that surely helps with blocking up the middle. Then there are the two guards, or lack thereof.
Also concerned about guards is the "Custodian of Canton," eye-RAH! Kaufman of The Tampa Tribune, who believes the Bucs may be searching for bodies.
Bucs mandatory mini-camp begins Tuesday. All eyes on Carl Nicks. Will he show? Will he participate? Do the Bucs need 2 new starting guards?

— Ira Kaufman (@IKaufmanTBO) June 7, 2014
Banking on the return of Nicks is slightly smarter than banking on Da'Quan Bowers to turn around his career. Joe hates to be Debbie Downer, but he sure doesn't expect Nicks to be in the starting lineup come September. The combination of an ugly turf toe and the MRSA likely did in Nicks. It's really sad.
And no, this has nothing to do with former Bucs rock star general manager Mark Dominik. For the fools who claim Dominik is at fault for Nicks, then you cough up the Powerball numbers for Joe out of that crystal ball you have in your bedroom. How the hell is anyone supposed to predict an Act of God? By that same logic, then Bucs general manager Jason Licht swung and missed on Mike Evans because Godzilla has a bum hamstring.