Lovie: Depth Chart Means A Little Bit More
June 10th, 2014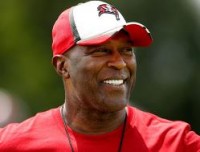 Thank you, Lovie Smith.
The Tampa Bay head coach essentially gave media permission today to speculate on what they see on the practice fields.
The Bucs launched a more intensive phase of underwear football at One Buc Palace this afternoon. It's better known as mandatory, three-day minicamp. When it concludes Thursday, players will go on vacation and return in late July for training camp.
"The depth chart means a little bit more now," Lovie said.
Now Joe, and anyone of sound mind, can't read too much into underwear football. No hitting is allowed. Guys aren't in pads. However, there's still plenty to see.
Regarding the depth chart, Joe will note that cornerback Rashaan Melvin is getting a lot of second-team work. A Dominik-Schiano undrafted free agent who was injured and lost for the season during a preseason game last year, Melvin is healthy and has quietly climbed the ranks. Lean, long and mean Melvin looks fluid and athletic.
In the absence of Mike Evans and with Vincent Jackson limited, Chris Owusu and Louis Murphy are getting a load of first-team work at wide receiver. They look sharp for whatever that's worth, Murphy especially. Jeff Demps isn't sniffing any top duty.
Doug Martin is the No. 1 running back and Bobby Rainey appears to be No. 2. Javorskie Lane is clearly the top fullback. And yes, the Bucs rolled out quite a few intriguing fullback looks today.
Nothing else is really unexpected on the depth chart front. And it's clear the Bucs are rotating through a lot of guards this month, though there's so little to glean from the trenches when guys can't hit each other. It'll be interesting to see whether the guard names and roles change tomorrow.
Of course, Joe will share what tomorrow brings from the sweltering grass of One Buc Palace.