Lesser Impact For Doug Martin
June 10th, 2014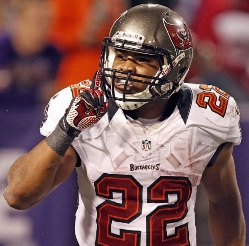 Many Bucs fans and NFL observers raised an eyebrow when Lovie Smith, just minutes after the Bucs drafted running back Charles Sims in the third round, stated he was looking specifically for a running back who could catch.
Then Lovie described Sims as his next Matt Forte. This led some to wonder if Doug Martin's days were numbered.
Joe said right away it was to lengthen Martin's career by putting him on a pitch count and not running him into the ground and burning Martin out after two or three years. Honestly, that's the smart move.
Perhaps no one sounded the alarm of what he perceived as the demise of Martin more than NFL analyst Evan Silva. The face of Rotoworld.com, Silva right away sensed Martin would be de-emphasized in the Bucs offense.
Yesterday, Silva explained Martin's lesser impact this season isn't just because of the acquisition of Sims.
RE: Doug Martin's #fantasyfootball outlook. Potentially porous guard play may be just as big a concern as Charles Sims & Tedford's history.

— Evan Silva (@evansilva) June 9, 2014
As Joe has stated time and again, he doesn't care about fantasy football. Joe's fantasies are of a higher calling. Joe, however, gets where Silva is coming from. Fantasy football guys aren't going to draft players who will have lesser impacts.
Joe has no problem with Martin getting fewer carries. The smart move is to extend Martin's career by reducing his abuse. The easiest way to do this is to spread the wealth, distribute the football around.
The way it appears the Bucs will be putting the ball in the air and capitalizing on players in space, it sure smells like Martin's days as a 25-rushes-per-game back are over.