Less "Strict" Lovie Delivers Powerful Motivation
June 9th, 2014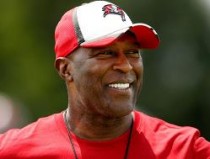 Greg Schiano didn't have the motivational prowess of Lovie Smith.
That was the message from Gerald McCoy last week.
The Bucs' manbeast, Pro Bowl defensive tackle took to the national TBD In The AM airwaves on CBS Sports Radio and shared his perception of the major difference between the two head coaches.
"They have two different coaching styles," McCoy said. "Lovie's more of a quiet, low-tone type of coach. And Schiano was more of a loud, boisterous type of coach. And that's really the biggest difference. Schiano, he was more strict than Lovie is, but Lovie, when he talks to you, you still hear everything he has to say. He makes you want to do everything he's saying to you. That's really the biggest difference."
In many ways, McCoy struck at what represents the greatest hope for the Bucs' 2014 season: improved coaching.
Just how much better is this staff versus the old regime? Nobody would be shocked if, with only three new defensive starters, Lovie rolls out a top-5 defense this season. The defensive coaching upgrade could be that good.
On offense and special teams, well, those are big mysteries. The Bucs were pretty solid on special teams last season, and Joe doesn't see how Tampa Bay got better in that area this offseason after losing key contributors like Brian Leonard, Erik Lorig, Dekoda Watson, Adam Hayward, Tom Crabtree and others. Wide receiver Russell Shepard was a big special teams guy last season and he might not even make the roster.
Regardless, if players are going to dial into Lovie with all of their souls, like they didn't do for Schiano, the Bucs should be in good shape in Year 1 of the regime.