Lavonte David's Savior: Lovie Smith?
June 25th, 2014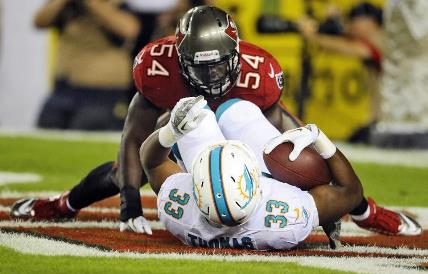 Joe really doesn't give a damn about the NFL Network Top 100 players. Hasn't watched a second of it. The series is nothing more than filler to get the network through the NFL summer siesta.
Joe would much, much, much prefer to watch an "America's Game" episode.
It is sad that NFL players either do not know or do not understand Bucs lineback Lavonte David. The guy is an absolute stud. What does it say about NFL players if they cannot elect David to the Pro Bowl or don't think David is one of the top 30 players in the NFL?
Guess he doesn't get on SchlockCenter enough for these grizzled football minds. If only David could hit home runs or dunk basketballs.
Well, former NFL safety Matt Bowen believes David's career is about to make a sharp turn — for the better. The reason for this expected spike in David's career? That would be Bucs coach Lovie Smith, the Bleacher Report analyst believes.
I believe David has only begun to showcase a skill set that will be developed even more under Smith and his coaching staff. Smith is going to teach technique, discipline and footwork within his scheme. Those are the main keys that will be on display during positional drills and teaching periods during camp. And it's all done at top speed, with multiple hats to the ball-carrier.

In my opinion, this is a great defensive scheme to play in. It allows you to read your initial keys, get to a landmark and just play football.

It sounds simple and almost a bit high school-ish, but this defense works when you have the personnel to play with speed and attack downhill. However, every defense in the NFL needs a playmaker who shows up consistently in crucial game situations. Given his speed, lateral quickness and ball skills, that should be David this year under the teaching of Smith. The production should continue to climb for the linebacker in Tampa.
Remember when Joe and many Bucs fans once thought it was heresy to suggest Lavonte David was the next Derrick Brooks? Well, that soon could turn from an insult to Brooks to near reality.
Simply put, Joe isn's concerned about the Bucs defense. It is in good hands.