Jackson No. 44 In NFL Network Top 100
June 11th, 2014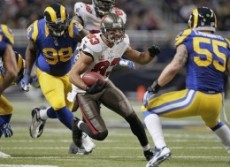 The Bucs' big-money wide receiver, Vincent Jackson, has earned one of the NFL's highest honors. His fellow NFL players voted him into the NFL Network Top 100 of 2014.
Jackson was rolled out as No. 44 tonight during the weekly countdown show.
Jackson, 31, didn't have his best season last year — 78 catches, 1,224 yards and seven touchdowns — but it was still impressive, especially given that defenses were able to shade coverage his way consistently after Mike Williams was lost with a hamstring injury.
Congrats to V-Jax! Last year, he ranked 52nd in the players-only vote.
Lovie Smith and Jeff Tedford desperately need Jackson to at least duplicate what he did last year. Mike Evans' healthy presence should make that easy.