Goldson Sees "Attack Mode" Defense & Offense
June 12th, 2014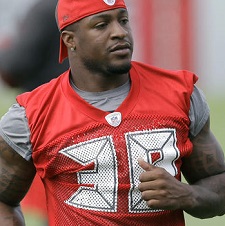 Dashon "Hawk" Goldson has been around his share of head coaches, including fiery Jim Harbaugh, Mike Nolan, Mike Singletary and Greg Schiano.
But it's in mellow Lovie Smith that Goldson sees his most aggressive head coach.
Joe got some 1-on-1 time with Hawk today and asked what's different about Lovie's approach versus his past coaches'.
"I think the mindset. I'm talking overall as a football team we're going to be more on the attack side," Goldson said. "Coaches are preaching heavily they expect turnovers, turnovers on defense, and just the way we see our receivers and our quarterback playing, they're more in attack mode. So that's what I'm getting out of it. It's going to be exciting. Everybody looks good in shorts, but I think we're further along than we expected right now."
"Attack mode." Joe likes that, and perhaps it's another clue into the mysterious Jeff Tedford offense.