Get Ready For Hitting In Training Camp
June 13th, 2014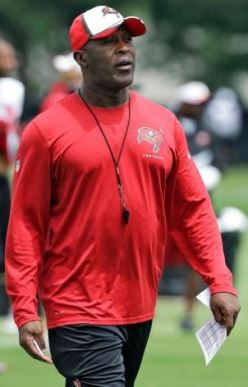 In many ways, Bucs coach Lovie Smith is old school. Lovie believes in embracing weather elements and being physical. And that's just what fans can expect with training camp next month.
Minicamp yesterday was only over for a handful of minutes and Lovie was already looking to the future. And the heat. And the crack of pads.
"A lot of coaches say we like to do two-a-days, but you can't do two-a-days anymore," Lovie lamented. "Our version of two-a-days we'll be doing, now you can have a walk-through in the morning. We'll use all four hours, whether it's walk-through or practice each day. Most of the time we go out on the football field, I don't believe in having a lot of – after the first couple of days or so once you can put the pads on, we'll be in pads just about every day. That'll be our routine for the most part.

Practicing in pads, "it's a big jump, so that's why we know a lot more about our football team. Look at it like when you go out for college workouts and you see the guys go through a lot drills. And when you get hands on with them, get a chance to meet with them, see what they can handle in the classroom, but it's about the physical part of the game, putting on the pads, so we can't get too high [now].

"The depth chart means a little bit more, but not a whole lot. We need to see the players in a different situation, especially our linemen, offensive lineman, what can you tell right now? Most of the time you heard me 'Stop, stop,' it's more 'stop, stop, it's no contact.' Now it'll be, 'We're going to turn you loose now on both sides of the football.' I'm anxious to see some of the 1-on-1 battles: offensive line, defensive line. And even though we won't tackle and body slam our running backs every play, but the blocking upfront, offensive, defensive line they're all full speed always. I'm looking forward to that."
Per NFL labor rules, the first day of training camp (reporting day, July 24) is limited to physicals and meetings, no field work. The second day of training camp is when the first practice is held. During the first two days of practice (July 25 and 26), the Bucs cannot be in pads. After that, buckle your chin strap.
At that point, Bucs fans and Joe can begin to see if the defense is taking shape. During underwear football, which is basically two-hand touch while wearing a helmet, it's awfully difficult to judge how linebackers and safties are playing, much less a pass rush.