Day 3 Minicamp Notes And Observations
June 12th, 2014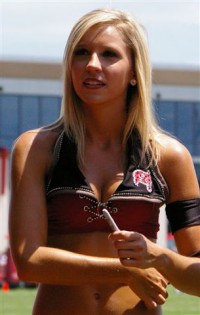 Joe was back on the practice fields of One Buc Palace today soaking up all the happenings of the final day of mandatory, three-day minicamp.
Here's your need-to-know:
*Safeties in a cool drill, working on hitting the blocking sled and shedding a block, then quickly scooping up a loose football.
*In 2-on-2 drills (second team vs. second team), there was strong pass coverage that Mike Glennon couldn't solve. He pumped faked and, had there been hitting, would have been an easy coverage sack.
*Danny Gorrer continued to have a solid minicamp. Today, he scooped and scored on a pass to the left side where the ball found its way to the ground. Gorrer had help with a convoy of four players blocking in front of him.
*Your first team offensive line, left to right: Anthony Collins, Oneil Cousins, Evan Dietrich-Smith, Jamon Meredith, Demar Dotson
*Your second team O-line, left to right: Kevin Pamphile, Patrick Omameh, Jason Foster, Kadeem Edwards, Emmett Cleary
*11-on-11 work opens up looking sharp! Crossing route complete to Robert Herron. Consecutive completions to Vincent Jackson, Chris Owusu and Louis Murphy.
*There's another Luke Stocker sighting, with the first team in fact! But with an asterisk: Tim Wright was not practicing (unknown cause) and, of course, Austin Seferian-Jenkins is in college. So by osmosis, Luke Stocker found his way on the first team.
*Louis Murphy hauls in a pass from Josh McCown in heavy traffic for a reception.
*In a pass route from the left side, Martin runs inside and loses linebackers for a short gain in the flat.
*Skye Dawson made a nice move, squeezing through double-coverage to come back for a McCown pass and a catch near the left sideline.
*Second team comes in but TE Brandon Myers stays on and catches a ball up the seam from Mike Glennon.
*While the second and third teams work, Collins and Oneil Cousins get into a healthy but intense discussion about what looks like positioning and footwork, based on their movements. An engaged, floppy-hat wearing Carl Nicks joins in.
*Nice break on the ball and bat down of a third-team, Mike Kafka pass by undrafted rookie linebacker Nate Askew. Joe can't call it a near pick since Askew really didn't seem to be going for the catch, just the bat down.
*Luke Stocker with a nice catch and run from Kafka.
*Trickery alert! A little wildcat-like action with Mike James on the third team.
*Mason Foster was no match covering Vincent Jackson over the middle. V-Jax was full-go today and sharp.
*The "Cannon" appears. Glennon throws a tight, low rope to Skye Dawson: 20-yard completion.
*Russell Shepard misses his golden opportunity to pounce on a ball in onside kick recovery work. Special teams chief Kevin O'Dea is not happy.
*Rashaan Melvin with tight deep coverage on V-Jax. Nice breakup.
*Herron getting plenty of first-team work.
*Pass interference! Keith Tandy on Louis Murphy.
*CATCH OF THE DAY! Yes, it goes to Stocker with a leaping, impressive grab, about 20 yards down the sideline. Murphy sprints over quickly for the leaping chest bump. The catch was that good.
*Tommy Streeter with a 10-yard TD catch and slam dunk on the crossbar. It was an awfully big celebration for a short toss from Mike Glennon. Somebody needs to tell Streeter that's now against NFL rules.
*Free slushies! As practice ends a big slurpee/slushy/ice cream truck rolls up and players partake. Biggest, overflowing serving Joe saw went to McCown. Here's the evidence.