Bucs Sign DE Ronald Talley
June 13th, 2014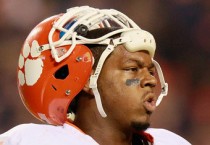 In a move that might not help Da'Quan Bowers sleep well, the Bucs signed veteran defensive end Ronald Talley today.
Talley, 28, was in minicamp this week as a tryout player. He played four full seasons as a bottom-of-the-roster guy in Arizona, where Bucs general manager Jason Licht last worked.
Former Florida State defensive tackle Everett Dawkins was cut to make room. Trimming a defensive tackle in favor of an end is somewhat noteworthy. It speaks well for the progress of Gerald McCoy's apparent rookie backup, Euclid Cummings.