Be Happy With Tim Wright
June 2nd, 2014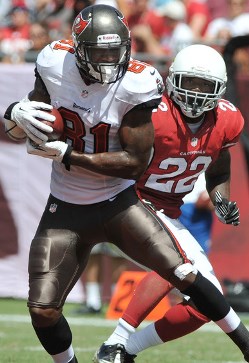 There may be no position outside of quarterback that Bucs fans wring their hands over to the point of rubbing their knuckles raw than tight end. Bucs fans never, ever seem satisfied.
For reasons Joe is unsure about, Tim Wright doesn't pass muster for many Bucs fans and this depresses Joe. For a guy that never played tight end, not even on the college level, Wright was one of the best in the NFL. Look at the numbers.
Joe would think fans would be doing cartwheels. Nope. Still in search for the Holy Grail, despite having a rookie who finished in the top half of the league in tight end receiving yards.
Scott Smith, the multimedia maven of Buccaneers.com, is pestered with the same questions. One query he decided to field was a relevant but misguided question. No, Wright will not be moving to receiver. But there's a twist as Smith explains perfectly.
I mean, there's a reason Wright went undrafted. That's not a knock on him. There are many good players that pass through the draft every year, and dozens of rookie free agents make it onto rosters around the league every year. That said, the majority of those players do not make it (there are only so many NFL spots available), so you'd be asking Wright to go back to a position where the odds were against him making the Bucs roster a year ago. On the other hand, if you keep him at tight end, you have a player who has already proven he can make it in the league, and one with fairly intriguing potential. And you'd be keeping him at a position where the Bucs had huge difficulty maintaining depth last year.

Furthermore, I don't even think you have to switch Wright's position to utilize his skills as a receiver. There's nothing preventing the Bucs from putting him in the slot on any given play and forcing the defense to decide whether to cover him with a linebacker or a cornerback. You could also put him in a variety of places in the backfield as something of an H-back.
That's a helluva point by Smith. What is to stop the Bucs from lining up Wright in the slot occasionally? That doesn't mean he has to move to wide receiver.
There is very little we know about the Bucs offense, but by following the bread crumbs, it sure appears the Bucs want to be as diverse as possible, giving defenses more multiple things to fear on any given play.
One way could be to use a tight end (Wright) once in a while in a slot position.