An Intelligence Signing?
June 18th, 2014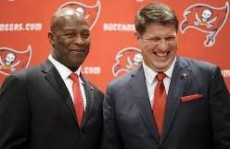 The Bucs added another body to their wide receiving corps, and he just so happens to have spent the last four seasons playing for Carolina, the Bucs' opening day opponent.
Per the Tampa Bay Times, Tampa Bay has inked David Gettis.
Gettis, who hasn't caught a regular-season pass since 2010, was a "tryout" player in last week's minicamp, but Joe didn't think Gettis stood out. Yes, the Bucs appear to have wide open battles at wide receiver, but that might not be the reality.
Vincent Jackson and Mike Evans are locks for the roster, and veteran Louis Murphy and rookie Robert Herron are darn close to being locks, barring preseason meltdowns. It's hard be imagine Eric Page getting cut, unless the Bucs find a guy on the street who can return punts (not kicks, punts). That's five receivers right there, potentially all that make the final 53-man roster, especially when considering the Bucs plan to run a lot of multiple tight end sets and like their backfield depth and firepower.
But then there's still healthy speedster and practice legend Chris Owusu in the mix, along with veteran Jeff Tedford guy Lavelle Hawkins, x-factor Jeff Demps and others.
So that's got Joe thinking Gettis might be on the training camp roster primarily for the insight he can offer into all things Panthers.
Every little piece of intelligence can help. Teams across the NFL routinely sign guys for that purpose. Ronde Barber even joked a couple of years ago that sometimes these signings can provide too much information.
Regardless, Gettis is a big body standing 6-3, and he looked pretty athletic in practice, though not as much as 6-5 Tommy Streeter, another receiver competing.
Joe wishes Gettis well.
As for more intelligence on the Panthers, the Bucs do have their defensive informant. Cornerback D.J. Moore played for Carolina last year and told Joe he has plenty to share.