Way Too Early To Talk Depth Chart
May 20th, 2014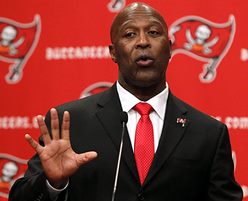 Bucs coach Lovie Smith was a little excited today, more than his usual calm, stoic self, because his team, his Bucs, were on the field practicing.
Lovie, however, cautioned reporters not to draw too many conclusions from what they are seeing.
He offered that it is a long, long, long way from the regular season and that there is only so much the team can do practicing underwear football.
"Aw, it is not just coachtalk," Lovie said. "It is competition at all the positions," Lovie said when asked about Jamon Meredith practicing at right guard with the first team. "He is lining up with the ones right now. I tell the guys to be concerned if you are not getting reps. We haven't done enough [to determine a depth chart]. You cannot get a true depth chart until you see someone, you see us go full-speed. I'm talking about in pads. So up until this point, the depth chart is based on what guys know as much as anything."
Lovie is right. This is underwear football. You can't tell how guys are going to block, run or pass block, when they are in shorts and just wearing practice jerseys.
There are no blitzes to pick up, no hitting of any sort. It is touch football. Seven-on-seven.
When the crash of the pads can be heard, that's when people can start getting an idea of who can handle the task at hand, or who is destined for the bench, or who will be changing mailing addresses.