Surgery Rehab Limiting Austin Seferian-Jenkins
May 16th, 2014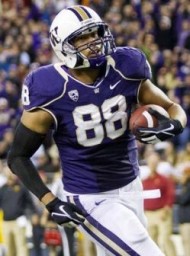 The Bucs' gargantuan tight end, second-round pick Austin Seferian-Jenkins, won't get much of a chance to flash his talent for a while.
And how long that will last is a mystery.
Speaking at One Buc Palace this afternoon to Joe and the pen and mic club, Seferian-Jenkins explained that he had offseason surgery for a fractured foot. There is no timetable for his return, the eloquent Seferian-Jenkins repeated several times for multiple queries.
Joe always gets scared when he hears about big guys and broken feet and basketball players. Seferian-Jenkins stands about 6-6, 275 pounds. Joe's got to get visions of Bill Walton and Carl Nicks out of his head. Surely, the Bucs' team of doctors know what they're doing.
Seferian-Jenkins was quick to acknowledge Mike Evans' impressive grab that had everyone at practice buzzing. And he explained that he's enjoying getting acclimated to the Bucs after not knowing what to expect. The rookie TE said he hasn't spent any time yet with the Bucs' corps of veteran tight ends.
(Joe will have more from Seferian-Jenkins through the weekend.)