St. Louis Calls For Davin Joseph
May 28th, 2014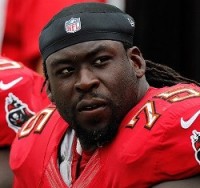 Joe's pulling for former Bucs captain Davin Joseph to revive his once strong career, but not during Week 2 of this season.
That's when the Rams come to Tampa.
Per BSPN, yesterday the Rams reached an agreement with Joseph, who could be a starter early in the season.
For the Rams, the expectation is that Joseph will provide depth behind projected starting guards [Greg] Robinson and [Roger] Saffold. Joseph also provides insurance in case left tackle Jake Long is unable to start the season. Long suffered a torn ACL and MCL against Joseph's former team late in the season.

As Long continues his rehabilitation, Joseph, who has played in 100 games (including playoffs), offers an experienced replacement inside who would allow the Rams to shift Robinson or Saffold outside until Long is ready.
Joe's not sure what Joseph has left in the tank. His play at right guard last season was brutal to below average. But Joe wouldn't be surprised if Joseph bounces back. He takes good care of his body, which should be healed a couple of years removed from surgery.
The Rams also got a good mentor for No. 2 overall pick Greg Robinson.
Meanwhile, the Bucs have big ol' question marks on their offensive line at both guard positions. Joe's not saying Joseph would have been an answer, but he might be better than what the Bucs have now.