Report: Bucs Reject Six Glennon Offers
May 10th, 2014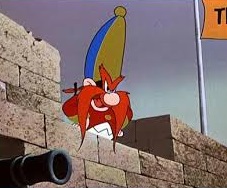 How dare anyone around the NFL think the Bucs would trade Lovie Smith's "quarterback of the future!"
But that's what happened over the past 48 hours, reports Rick Stroud of the Tampa Bay Times.
Glennon offers came the Bucs' way from "at least a half dozen teams," per Stroud, who didn't offer a source or more details on the potential trades.
Joe's glad the Bucs didn't give Glennon away for a ham sandwich. He's a solid backup quarterback. Tossing him away for the NFL version of peanuts would have been beyond foolish. However, if the Bucs turned down a third-round draft pick, then Joe's gut would ache tonight from something other than beer and fried food.
Joe suspects the actual offers will never be known.
Again, as Joe's written countless times, Joe watched Glennon make 13 starts and simply doesn't believe Glennon has the necessary talent to ever get the Bucs to the Super Bowl. So Joe wants a different "quarterback of the future" on the roster.
It's really just that simple.
Joe respects that Lovie Smith wants to roll with Josh McCown and Glennon. It's Lovie's team, and Glennon and McCown must be the duo selected by quarterbacks guru/offensive coordinator Jeff Tedford. If Lovie gets to the promised land with one of those QBs, then the man deserves a massive Team Glazer raise and extension.