One Of "The Wolfs" Surfaces In Carolina
May 16th, 2014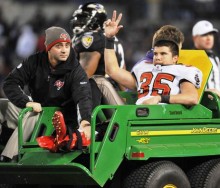 Joe was reminded today of one of the lighter periods in Bucs history, when Raheem Morris often distracted fans from the losing with news conferences that rolled out silly nicknames, stories of his granny looking like a bulldog, historic ramblings "and things of that nature."
One classic came before the implosion of 2011, when Raheem explained how his starting safeties, oft-injured Cody Grimm and serial loafer Sean Jones, were "The Wolfs."
Grimm was healthy last spring but got in trouble for two alcohol-related shenanigans and was a final roster cut by the New Schiano Order.
Grimm was out of football in 2013, but he resurfaced today with word from the Panthers that Grimm will join their rookie minicamp as a tryout player.
Joe wishes Grimm well. He was a legitimate No. 3 safety when he wasn't hurt.
And yes, three other key Bucs safeties of 2011 are all out of football: Tanard Jackson, Jones and Ahmad Black. (Hell, Lovie Smith couldn't win with that bunch.) Reserves Corey Lynch and Larry Asante are still hanging around with Indianapolis.
For those unfamiliar, here's the famous Wolf scene from Pulp Fiction: (Not safe for work.)