McCoy's Backup On The Way?
May 12th, 2014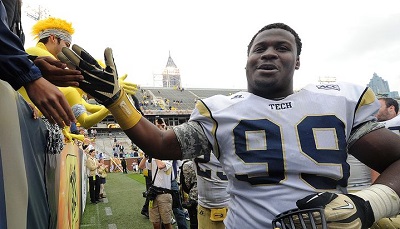 The Bucs have yet to make their undrafted free agent signings and rookie camp invitees officially known, but it appears only one defensive tackle was signed.
Joe thinks the Bucs must have pretty high hopes for the guy, considering Gerald McCoy really has no backup on the roster.
Joe's talking about Euclid Cummings out of Georgia Tech. He stands 6-4, 275 pounds and just finished his first season in a 4-3 defense– his red shirt senior year — learning the 3-technique as a starter on the fly.
Joe's read various interviews of Cummings talking about how he felt like a much better fit in a 4-3 defense, and the Atlanta Journal-Constitution reported Cummings said he signed with the Bucs and was told he would have no competition from other new undrafted free agent signings.
Cummings got his degree in December and is known for being a demonstrative presence on the field. He's also got some versatility, having played end in Georgia Tech's former 3-4 defense.
Reports had Dallas, Baltimore, Minnesota and New England interested in him. Joe heard that Dallas link and wondered whether Lovie Smith and Rod Marinelli might have kicked around some thoughts about Cummings before (or after) Lovie got the Bucs job.
Cummings will have Joe's attention at this weekend's rookie minicamp at One Buc Palace.