McCoy Says Cummings Has Quiet Drive
May 29th, 2014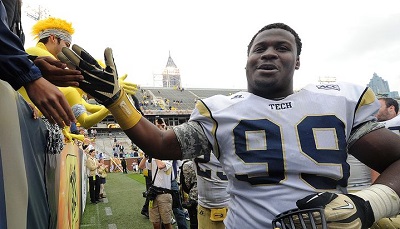 Gerald McCoy is the unquestioned vocal leader of the Bucs defense, but it seems his likely 2014 backup won't take after No. 93.
Joe talked to McCoy this week about undrafted rookie Euclid Cummings, the likely Bucs undertackle of the future.
Here are the current Bucs defensive tackles:
McCoy
Clinton McDonald
Akeem Spence
Matthew Masifilo
Everett Dawkins
Euclid Cummings
Masifilo hasn't taken a regular season snap, and Dawkins played in one game with Dallas last season. Nearly all teams carry four defensive tackles, and the Bucs don't have a defensive end that's proven anything as an inside rusher.
As Joe's documented previously, Cummings was very much targeted by the Bucs before the NFL Draft. Defensive line coach Joe Cullen ran Cummings' pro day at Georgia Tech, and the Bucs made promises to Cummings agent if he signed with Tampa Bay as an undrafted free agent. And yes, Cummings got a signing bonus.
Cummings, who stands a fit-looking 6-3, 291 pounds, is making an impression. McCoy didn't dispute Joe's claim that Cummings could be his backup on opening day.
"I'll say this about him; he's more action than words. He comes to work every single day. He doesn't make any excuses and just learns and works. That's the way it should be for a rookie," McCoy said of Cummings.
Training camp is just eight weeks away, but that's a long way to go and Cummings and the rest of the defensive tackle hopefuls will have a lot to prove in preseason.