Lovie Endorses Glennon, QB "Of The Future"
May 8th, 2014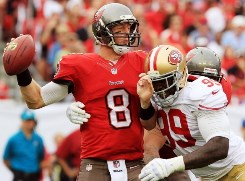 The anchor of the 32nd-ranked offense last season, Bucs backup quarterback Mike Glennon, has a loud advocate (for now) at One Buc Palace.
Amid glowing about new Bucs wide receiver Mike Evans, the Bucs' 2014 first-round draft pick, Lovie Smith weighed in on the current state of the Bucs' quarterback situation tonight . Lovie said he hasn't been around a stronger quarterbacks stable and called Glennon the QB "of the future."
So what does that mean? That's a pretty vague statement. The future of what? More second-rate offense?
Johnny Football is still on the board (for now). So is Teddy Bridgewater. So is Aaron Murray.