Kadeem Edwards Learning A Lot
May 19th, 2014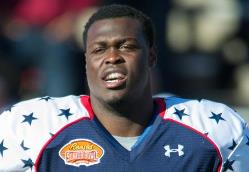 If coaches can get the most out of players, then the Bucs may have hit on something with offensive tackle Kadeem Edwards from Tennessee State. And, yes, Joe thinks coaches do get the most out of players.
And bad coaches get the worst out of players, too.
Kadeem Edwards was drafted on Day 3 in the fifth round, largely as a project. Coming from Division I-AA, Edwards, at the Senior Bowl, showed Bucs coaches he could handle some of the best defensive linemen in Division I. Saturday after the second day of rookie minicamp, Edwards all but admitted he got by at Tennessee State on smarts and guile and hard work. Coaching? Edwards is learning the coaching he got this past weekend was worlds different than what he got at Tennessee State.
"I think I am ready [to start] to step out of the gate," Edwards said. "I do have technical flaws but I correct them. I do whatever Coach 'Hop [offensive line coach George Warhop], and that is the whole game, nobody is perfect. Everybody has flaws. That is why I am here, to perfect.

Warhop's insight "is new to me; he is very, very detailed. He wants everything right. I have never had a coach who wanted everything right from every detail from every point, from every direction we go, he wants everything right."
This is encouraging. A player drafted as a project with corners to smooth over likely won't get anywhere without coaching. If a guy doesn't know how to improve, then how the hell can anyone expect him to improve?
A detailed coach should be able to develop a project to some degree. And that is what is encouraging to Joe with Warhop. Combined with Edwards' attitude that he wants to improve and seems to already have developed a bond with Warhop, this can't be anything but a good sign.