Is Lovie Smith Adjusting His Focus?
May 27th, 2014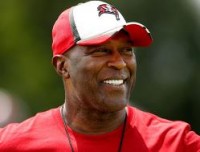 The x-factor of the Bucs' season is pretty clear for one Buccaneer.
Cornerback D.J. Moore has spent enough years around Lovie Smith in Chicago to know the key to the 2014 Tampa Bay season and beyond.
It's a position Lovie that has given the head coach fits through his career: offensive coordinator.
Moore, speaking on Nashville sports radio 102.5 was confident in the defense but wondering whether Lovie has finally made the right choice on his coaching staff.
"Traditionally, Lovie has always had really good defenses. And traditionally, the offense has always been on the down side. So every year in Chicago, like, man, it may have been a new offensive coordinator every other year. So that's going to be the story," Moore said. "Is this the guy? Is this offensive coordinator the guy that, you know, helps him over the top?

"So hopefully the offense does well. You know you got big receivers. Even though we drafted some guys, we have some receivers here. We have some of the fastest receivers in the nation here. They could put a [4 x 100 relay team] together. But we got a lot of running backs. So it should be really good. I'm just looking forward to seeing how this offense is going to perform."
Joe sure hopes Jeff Tedford is "the guy." Joe also hopes Tedford was given a huge say in selecting his quarterbacks. Why hire a renowned quarterbacks guru and developer of quarterbacks and not let him pick his guys?
Lovie is known for being rather "hands off" with the offense. Just ask Bears great Matt Forte.
But Joe wonders whether Lovie has changed that approach after a year off to re-evaluate his work and plenty of film sessions in his Chicago basement. The draft and the choice of quarterbacks might lead one to believe Lovie is diving into the other side of the football.