Gerald McCoy: No. 5
May 27th, 2014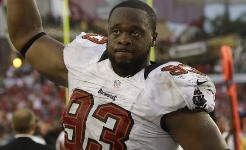 The stat nerds at Pro Football Focus are winding down their Top 101 players in the NFL, based on stats of course. Three teams had two players in the top-10. One was the Super Bowl champs. The other was the NFC East champs.
The third team was the woeful Bucs.
Of course, we all know Lavonte David made the list. Now, we know defensive tackle Gerald McCoy made the list.
Sam Monson describes what put GMC into the top-10.
Key Stat: His 80 total pressures was bettered by just four other players; three edge rushers and Watt.

Gerald McCoy has become the prototypical 3-technique or under tackle in a 4-3. He is the pass-rushing player on the interior of a four-man line and the player usually tasked with beating a guard one-on-one and disrupting plays in the backfield. McCoy has become as good as anybody at shooting gaps and playing on the opposing side of the line of scrimmage. The level of pressure he has been able to generate playing on the inside, despite little help around him, is remarkable.

In any other year McCoy would likely be the Defensive Player of the Year, but in 2013 he couldn't even be the first runner up in that category at PFF. Despite being overshadowed by the years Watt and Quinn had, McCoy should not go without notice and he is well worth his place at No. 4 on the PFF Top 101.
Three things spring to mind for Joe:
1) How can a team have two of the best players in the NFL and be so rotten like the Bucs were last year? That's almost impossible to fathom.
2) As good as the Bucs defense was last year, it goes to show how pathetic the offense was, given the Bucs drafting No. 7 overall.
3) The Bucs have one of the best defensive linemen in the NFL and few sacks to show for it. How absolutely criminal was it that GMC got little to no help dirtying a quarterback's jersey. What an outrage!