Frenzied Final "War Room" Days
May 2nd, 2014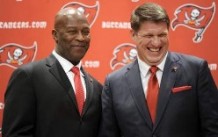 As Bucs fans join Joe in counting down the six days until the 2014 NFL Draft, Joe wants to share some good stuff from former Browns and Rams scout Russ Lande.
Lande has been a longtime draft analyst for various outlets and now works as a personnel executive in the CFL.
Writing for SportsOnEarth.com, Lande relayed what amounted to draft horror stories that show how reactionary NFL Draft "war rooms" can be.
Here's an excerpt:
I cannot speak to how every team's meetings or draft rooms function, but the ones I have been a part (the Rams and Browns) have provided some of the funniest — and scariest moments — in my scouting life. Below are some anecdotes from those experiences (well, at least the ones I can share without getting into too much trouble).

One year, there was a fullback that I had scouted at a Midwestern school to whom I had given a late round grade. I felt that he had the inside running ability, receiving skills, special teams production and other qualities worth taking a flyer on. However, during the pre-combine draft meetings, no matter how hard I fought to have this player kept on the board, I could not get it done — the player was 5-foot-8 and nobody wanted a fullback that short. Then came the pro day circuit, before the final draft meetings in April. Amazingly, while none of the scouts had been there to fight for this fullback since our last meetings, he was now in play because he ran one of the fastest times for any running back at the combine. Although I was happy to see him on the board, it made me question if the team really knew what they were doing. Player should not move up the ranks so quickly just because they ran a great forty at the combine.
There's plenty more to read if you click above.
As Joe described earlier this week, right now there's incredible harmony and experience at One Buc Palace, and general manager Jason Licht is proud that the Bucs have resisted "the noise" when it comes to evaluating quarterbacks. But things can and do change quickly.
This time of year, teams are asking their scouts from, for example, the Northwest Region to watch film and give their feedback on guys identified, scouted and graded by the Northeast unit. Opinions clash. An assistant coach might be dragged into the analysis. Views change.
And that's just one small example of how calm can get overturned. Heck, you never know what the Bucs' data mavens might put in a .pdf.
Joe's got confidence Licht's diverse experience around the league will help him keep the Bucs in check. And Lovie's surely been around long enough to not do anything foolish. Joe can't help but be optimistic.