Did The Bucs Draft Their Prototypes?
May 15th, 2014
Podcast: Play in new window | Download | Embed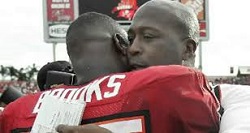 This was such a good interview that Joe had to share it, even though it's not Bucs-specific.
Hall of Fame head coach/franchise rebuilder Bill Parcells dove into NFL Draft philosophy during an interview this week on BSPN Radio.
Parcells says he's still a student of the draft, even consulting with Major League Baseball teams to study their draft approach, in addition to his exposure to NFL GMs.
NFL Draft boards and player rankings were not discussed. Parcells said it's so critical for a team to stick to finding players who match what they're all about. "It requires a discipline to adhere to the prototypical player that fits your team and your system," he said.
Parcells shared a story of Tom Landry teaching him, "Bill, do not draft exceptions. Or pretty soon you're going to have a team full of exceptions." Straying will hinder a franchise, Parcells said. "The more of those you draft, the less you're going to look like the team you want to look like."
It all got Joe thinking, did the Bucs only draft players that fit their system and their specific team philosophy? Only Lovie Smith and Jason Licht have those answers.
Fans really have little clue as to what the Bucs offense will be — and the Bucs only drafted offensive players.
But Joe sees the Bucs drafted four guys whose primary duty will be to catch the football and be clear mismatches for defenses. Now Jeff Tedford has to prove he can exploit mismatches at the NFL level with a thin offensive line and a couple of third-tier quarterbacks.
Joe is very excited to see Tedford's creativity. Joe's confident this Bucs offense won't look like anything seen before in Tampa.
(Enjoy the audio below: Yes, Parcells weighs in on the two NFL rookies that garnered the most attention in this draft.)