Bucs Dial Up McCoy's Agent About Extension
May 25th, 2014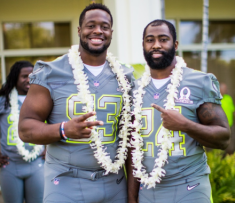 Well, it seems the Bucs aren't interested in waiting to see how much cash manbeast, angry defensive tackle Ndamukong Suh can squeeze out of the Lions.
The Bucs already are on the horn with Gerald McCoy's agent to talk about a contract extension.
Tampa Bay Times beat writer Rick Stroud broke the news last night, saying Jason Licht reached out. Stroud offered no timelines but hinted a goal could be a new deal by training camp. McCoy's five-year rookie contract expires after the season.
So what's McCoy worth? That's hard to say with the rising NFL salary cap and the critical role McCoy will play in Lovie Smith's defense. Lovie has called McCoy the "engine" on several occasions. Then there's McCoy's back-to-back Pro Bowls and his youth; he just turned 26.
Courtesy of dumping Darrelle Revis and other roster moves, the Bucs, per various reports, have about $10 million available under the 2014 salary cap. So the Bucs could frontload a new deal for McCoy and avoid getting pounded for a fortune in future years. He's already set to earn $10 million plus incentives this season.