Bucs Add A Tight End
May 9th, 2014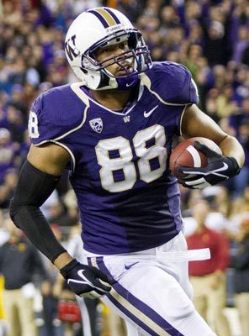 Now this has Joe totally stunned. After grabbing a tight end in free agency and already having one of the better tight ends in the NFL (look it up) in Tim Wright, a position not even close to a need, the Bucs draft a tight end/basketball player Austin Seferian-Jenkins of Washington.
Here is Seferian-Jenkins' profile from NFL.com.
Looks the part. Has outstanding size and stature — presents a big target and dwarfs defensive backs. Uses physicality to create separation and can post up in the red zone. Athletic — spent time on the UW basketball team. Terrific movement skills and receiving ability for a big man. Surprising foot speed and agility — stretches the seam. Adjusts to throws and has soft hands. Has potential to be an effective in-line blocker — has size and core strength to seal defensive ends.
This is a stunner for Joe. They could have used another wide receiver. They could really use a guard. But they draft a position not of need.
Joe has given up trying to figure out Lovie.
Hope Luke Stocker is renting.