Barron And Goldson "Perfect" Combo
May 20th, 2014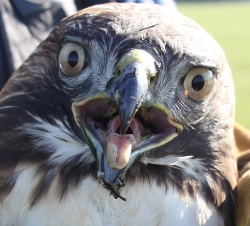 Joe remembers last year when the Bucs signed "Hawk" Dashon Goldson, many Bucs fans and national football observers grumbled about how Goldson and Mark Barron were too much alike, therefore, it was a wasted acquisition.
Bucs coach Lovie Smith will have none of that. Today, Lovie raved about Barron and Goldson, going so far as to refer to them as a "perfect" combination.
"Critical for us to have great safety play," Lovie said. "Been like that since the beginning of time. It hasn't changed. We are as good as anybody around at the safety position. [Dashon Goldson and Mark Barron] are perfect matches for what we are going to do."
Of course, Lovie didn't exactly cough up what he expected Barron and Goldson to do, but it sure seemed like the play of the safeties in his defense may be the most important element short of stopping the run.
Joe will be interested to see how things shake out for Barron and how he complements Goldson, who some believe has under-performed. Goldson seems to have been labeled a headhunter by league official types and is being targeted by referees.