"Actually Look Like A Fairly Credible Offense"
May 22nd, 2014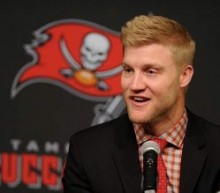 The Bucs are loaded at tight end, talented and deep at running back, plus they've got two gifted wide receivers who, together, present huge matchup problems for defenses.
Gone are the 2008 days, when the head coach couldn't figure out how to put his two best wide receivers on the field together. Gone are the 2009 days of banged up Antonio Bryant, Maurice Stovall and Sammie Stroughter in place for the rookie quarterback.
Preston Parker is no longer the go-to guy on third down. Kellen Winslow is no longer screaming for the ball when he's not open.
Kevin Ogletree and Tiquan Underwood have left the building.
Tampa Bay Times beat writer Rick Stroud has taken notice and likes what he sees on the field — in May.
"They actually look like a fairly credible offense in a very short time," trumpeted Stroud on WDAE-AM 620 yesterday. "I mean, one OTA practice, you're going against your own guys. The defense made plays, etc. But when you look at the collection of weapons out there, I think they have guys that can make plays. And if Josh McCown protects the football, he throws the ball very well. He throws a great deep ball; you'll see the accuracy he has on that. And it's the type of receivers he's used to playing with in Chicago. I think they have a chance."
Optimism abounds. Joe's even confident the Bucs offense will be much improved from its worst-in-the-NFL status, though Joe is concerned how long it will take for the offense to thrive.
The Bucs face two nasty, physical defenses in Weeks 1 and 2: the Panthers and Rams. Then they've got three consecutive road games — always tough on a team — before heading to another nasty defense in Baltimore.
That's very tough sledding for a new offense and could lead to calls — wrongly or rightly — for the quarterback of the future during the Week 7 bye.
(Listen to the WDAE Stroud audio below)