A Few Photos From Tuesday's OTA
May 21st, 2014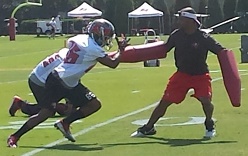 There is a bit, well, a lot more access given to the Tampa Bay pen and mic club than in recent years past. Of course, the tradeoff is no Twittering during practice. It's a fair scratch-my-back-I'll-scratch-yours swap.
Joe is happy with the open society that has enveloped One Buc Palace.
As a result, Joe was able to roam the practice fields and allowed to snap some photos with his smartphone. So here are some of the photos, and Joe's pretty surprised at the quality, given that, yes, it's a Samsung Galaxy 4 (no, Joe's not getting a kickback for typing this but if someone from Verizon Wireless would contact Joe, he is sure he can work something out).
Joe is actually used to working an SLR camera, where Joe can actually see the subjects and focus, unlike a smartphone in the sun where Joe can't see a damned thing due to glare, and basically has to point and shoot and pray for a decent shot.