More Blitzes For Foster? Yes, Please.
April 4th, 2014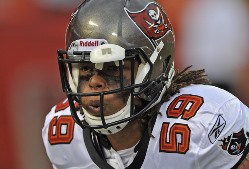 Last week at the NFL owners meetings in Orlando, Bucs coach Lovie Smith held court for reporters and talked about middle linebacker Mason Foster blitzing more.
At a recent fan outing with select season ticket holders, Joe caught up with Foster to discuss his new defensive responsibilities under his new coaching staff. Joe will bring you excerpts through the weekend. But here is what Foster had to say about him going after the quarterback.
In short, Foster is all for more blitzing, at least from him.
JoeBucsFan: Lovie said recently that he plans to blitz you more. Is that something you welcome?

Mason Foster: Yes, definitely. I am open to do whatever they need me to do to help this team win. Blitzing is the fun part. Pin your ears back and make something happen. So I am definitely looking forward to working with Lovie and coach Nickerson and everybody with the Bucs.
Now Joe also asked Foster if he had spoken with Brian Urlacher, who played middle linebacker for Lovie in Chicago, in order for Foster to get an idea of what to expect from Lovie and how to prepare for his defense.
Foster said he did not speak with Urlacher but had spoken to enough players who played in that defense, and enough coaches familiar with it, that Foster has a good idea of what to expect.
And he expects quarterbacks to sweat a lot more playing against the Bucs than in recent years.