McCown Talks About Drafting A QB At No. 7
April 15th, 2014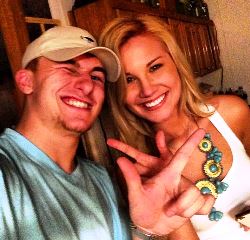 Of course, Joe had to ask Josh McCown today at Bucs headquarters whether he spent time with the former college quarterbacks that visited One Buc Palace in recent days.
McCown talked about his brushes with Johnny Football, Teddy Bridgewater and Jimmy Garappolo, and he went on to explain his approach if the Bucs drafted a quarterback on Day 1 of the NFL Draft in 23 short days.
Yes, McCown met the QBs, one of which he might be mentoring.
"Briefly. Just saw them in passing. Shook hands, said hello to them. All seem like nice kids. And they look so young, man. But it was cool to say hello to them, just briefly with Johnny, with Teddy, with (struggled for the name) Jimmy (Garoppolo). Yeah, Jimmy," McCown said.

"Just hey, how's it going? Wished them well. All those things. It's just funny. You look at them and they come in and you think back (paused for comedic effect) a few years, and you remember how fast it can go. And sitting in their chair and everything that's going through their mind. And this is, in my opinion, easily the longest year in your career is that first year because you're going from [NFL Scouting] combine to the end of their rookie season is just a long year. You're excited but it can be draining and very emotional, and now they've bumped the draft back, so there's this waiting period for those busy. But just more than anything I wished those guys well."
McCown also answered a follow up question about his reaction to the Bucs potentially drafting a QB in the first round. As expected, McCown responded like the ultimate team player he is.
"My focus won't shift. My focus is for, like I said before, whether it's me or Mike Glennon or Mike Kafka or somebody else, for the Tampa Bay Buccaneers quarterbacks to play good football and to help their team win football games. So that wouldn't change," McCown said.

"If we pick a young guy at that [No. 7 overall spot], then let's help him get ready, too. Because we're picking him there because we think he can help us win games if you're picking somebody that early. So absolutely, it's about helping us win football games."
Classy guy.
McCown also said he loves being a mentor, whether it's in football or anywhere else in life. 
As Joe's written previously, this is absolutely the year for the Bucs to draft the best QB they can, based on their scouting, of course. McCown would be such an asset to a young quarterback, and there's no better time than at the start of a regime.