Lovie's Secret, Simple Prospect Grades
April 29th, 2014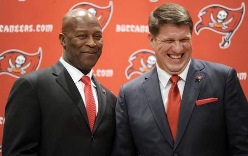 Lovie Smith and Jason Licht went before local media this afternoon for a Q&A session about the NFL Draft. The Bucs' dynamic duo put forth a very relaxed, smiley unified front.
Licht said he and Lovie will continue evaluating players and tweaking and reviewing their draft board until draft day, but it's been a pretty agreeable process between them. But their methods are different.
"Lovie's got his own grading scale, where [my personnel department and I] have numbers and things and Lovie's just, 'I like him,' or 'I love him,'" Licht said. "So he makes it a little easier on me."
Of course, that drew some laughs for the media. It was on the heels of Joe asking Licht to talk about what he's learned about Lovie as a scout (not a head coach) through the pre-draft process.
Licht gave a visual answer. He used his body and words to explain that when he and Lovie are watching tape of "offensive linemen," then Lovie is slouched back in his chair. When it's "defensive players," Licht said, Lovie is at the edge of his seat.
Lovie and Licht sure are an interesting team. Old school and new school. (Stick with Joe through the day. Joe will have more on Licht's new school approach.)