Johnny Football Is Coming!
April 9th, 2014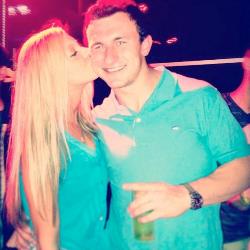 Joe noticed in a few of his comments on this here corner of the Interwebs that the Johnny Football haters of Bucs fandom (Joe will bet the same crowd is also largely inflicted with the Sammy Watkins Fetish) were giggling that the Bucs have yet to invite Johnny Football to One Buc Palace for extensive interviews.
Well, bad news folks (or good news for right-thinking, red-blooded football fans). Johnny Football's coming. This is the word from Woody Cummings of the Tampa Tribune. Johnny Football will be at One Buc Palace Thursday.
This isn't the first time the Bucs have met with Johnny Football. If the new Bucs administration wants to make a bold move that will energize a fanbase short of making a postseason run that hasn't happened in 12 years, drafting Johnny Football will make a strong statement that the Bucs are not fooling around any longer with patchwork offense.