Hardy Says LBs Can Play In His Image
April 6th, 2014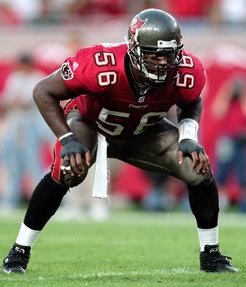 It's been an age old question: Can a great player be a great coach, one who can get his students to play like he did?
Bucs icon Hardy Nickerson, now Tampa Bay's linebackers coach, didn't hesitate to say he can do just that.
You can watch Nickerson respond to the query and explain in this Buccaneers.com video.
Joe realizes many of his young readers, as well as new Bucs fans, don't realize what a rip-your-head-off, violent, emotional middle linebacker Nickerson was. He came to the Bucs in 1993 and made five Pro Bowls in seven seasons, three for Sam Wyche and four for Tony Dungy. The man has been given credit for molding Hall of Fame alpha dogs Warren Sapp and Derrick Brooks. Every season Nickerson isn't in the Bucs' Ring of Honor is a crime against humanity.
Nickerson was a linebackers coach for Lovie Smith in Chicago back in 2007 before leaving the NFL ranks. Now he's back.
Mason Foster already had Bryan Cox, a rabid, Pro Bowl beast in his day, coaching him in 2012, when Foster blossomed before Cox moved to coach the Bucs' defensive line last season. So it's not like Foster hasn't been around an intense ex-player. But it sure will be interesting to see what Nickerson might be able to do with Foster. Nickerson played the same position in the same defense.
No, Joe doesn't expect newcomer Dane Fletcher to win the middle linebacker job, though it's great that Foster finally will have some competition.
This is a huge year for Foster, who will be an unrestricted free agent in 11 months. He's done good things as a 2011 third-round pick, but he's never put together what Joe would consider a complete, consistent season.
Work your magic, Hardy.