GMC Will Not Hold Out
April 16th, 2014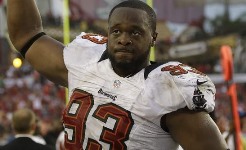 Gerald McCoy right now is the unquestioned leader on the Bucs. Lavonte David, about the only player who could call GMC an equal on the field, defers to GMC. It's not really surprising that GMC also has taken to be an on-field coach of sorts.
So a leader isn't going to duck his responsibilities when the team needs him. Entering the final year of his contract, GMC isn't going to go all selfish and squeeze the Bucs for a quick reworking of his contract. When the date is set for the beginning of training camp, expect GMC to be there on the field, sweating in the brutal Florida sun just like the rest of his Buccaneers, so GMC declared yesterday at One Buc Palace.
"When they say report to camp, Gerald McCoy will be there regardless of what happens," GMC said Tuesday.
One reason for that is GMC is excited for 2014. With a return to the "old school, traditional Tampa-2 defense," the team is hoisting GMC on a pedestal. As a result, GMC is being challenged by both his coaches and his boyhood hero, Warren Sapp, to be the best he can be, both for himself and his teammates.
And GMC won't go letting his team down. The first step is to be on time for training camp.