Did Guru Addiction Sink Jeff Tedford?
April 10th, 2014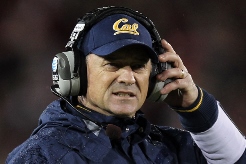 There's no denying the success of quarterbacks guru and "Cal" reviver Jeff Tedford, the Bucs' new offensive coordinator, who as Cal head coach brought program from the basement of the Pac-10 to among the elite of college football.
However, Tedford's success plummeted in 2007. Ask any "Cal" fan and they'll tell you that after starting 5-0 in 2007, Cal fell off the map and never recovered. Tedford was fired after the 2012 season.
Joe's given Tedford a completely clean slate. There's no reason not to focus on his strengths and see what evolves. While Joe's put in an immense amount of research into Tedford, including talking to his former players at Super Bowl Media Day, Joe hasn't written much about what Tedford might do with the Bucs because it legitimately is a mystery. Tedford is no cookie-cutter coordinator.
A common theme Joe's learned about Tedford is that he's a guru type, meaning he complicates things. He seems to like things complex and innovative, as much as he likes to move the chains on 3rd-and-a-long-1 with a run up the gut.
That can be a dangerous trait in the NFL, where many coordinators overthink things and lose sight of the objective and get too caught up in minutiae and style points. (See the Benn'd Around, telling Josh Freeman not to run, so much of Jon Gruden's pre-snap shuffling and monstrous playbook, and Mike Sullivan calling wheel routes for Doug Martin and abandoning slant passes to Mike Williams, among many other recent examples.) 
Jon Wilner, of the San Jose Mercury News, penned a long analysis of Tedford near the end of his reign at "Cal." It's an interesting read. Here's an excerpt:
Tedford's focus on tactics, at the expense of chemistry, also helps explain why the Bears have suffered 15 blowout losses (17 points or more) in the past four years — a far higher rate than any program that could reasonably be considered a peer.

When adversity surfaces, especially on the road, players must trust their coaches and themselves; leaders must provide inspiration and hold others accountable.

Cal is, far too often, deficient in those vital areas.

But even something as significant as poor chemistry pales in comparison to the Bears' greatest problem over the past half decade:

The lack of an identity on offense.

When Tedford arrived in Berkeley, he installed the same pro-style offense he coached at Oregon: Use the run to set up the play-action passing game, with the quarterback primarily positioned in the pocket. The approach worked masterfully with Kyle Boller and Rodgers.

But Tedford eventually felt compelled to tweak his offense. He began taking plays and formations from other teams and adding them to Cal's playbook — to the point that the Bears' essence got lost in the clutter.

Stanford's identity is apparent: Ball control, power running, play-action.

Oregon's identity is obvious: Zone read out of the spread formation, warp speed.

USC's identity is clear: Pocket passing, play-action.

But watch Cal on a regular basis and you'll see pro-style passing and some spread option running and some stationary pocket and some moving pocket. Tedford is forever tweaking, forever grasping — and forever adding to a playbook that is too much for his quarterbacks to process.

Whether it's Joe Ayoob or Nate Longshore, Kevin Riley or Brock Mansion, Maynard or Bridgford, the results have been the same:

Touted quarterbacks fail to meet expectations because the information overload created by Tedford's voluminous playbook prompts them to short-circuit during the heat of the game — when overthinking is the last thing a quarterback should be doing.

Tedford's constantly changing offense — and his hands-on approach to tactics — creates a difficult situation for his assistants. Is it any wonder that the Bears burned through six offensive coordinators in eight years? The lack of continuity brings an incalculable cost.
Now remember, Tedford was head coach and offensive leader, and he was recruiting and leading the charge and management at "Cal" of a new stadium deal. The man was spread thin. Tedford acknowledged when he got the Bucs job that his role in Tampa was a breath of fresh air, a chance to get back to his true love of solely focusing on offense.
Again, Joe's got a clean slate for Tedford, but Joe will be keeping an eye out come September for unnecessary tinkering and sticking with plays that don't work. And don't be thinking that Lovie Smith will reign in Tedford, if necessary. That's not how Lovie rolls with his offensive coordinators.