D-Line Stunts A Focus For Verner
April 29th, 2014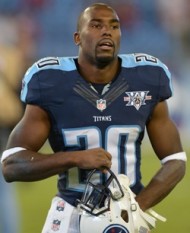 As Joe wrote in his practice notes last week, Bucs coaches have really been drilling cornerback Alterraun Verner on the nuances of the Tampa-2 defense.
There is plenty to learn, so Verner told Joe today, and a slice of it surrounds three words that make many Bucs fans tremble in fear: defensive line stunts.
"Usually, generically, corners probably have the least amount of responsibility out of everybody else. Most of the time it's man, 'Ok, you got this guy,' and that's it. But for our defense, you gotta know certain fits," Verner said. " You gotta know stunts by the D-linemen because you might have to show up in the run. You might have to do something to help the safeties out. So there's a lot of nuances where we have to be very smart.

"We gotta know what we're doing. We can't rely on somebody else telling us. And that's probably the biggest thing. That's why we have to study and know so much. And get in our playbook because we have those additional responsibilities here."
Joe's not trying to strike fear in Bucs fans who were scarred by the constant dancing and indirect pass rushing of Tampa Bay the past two seasons. Plenty of good defenses (including the glory days Buccaneers) use line stunts, just not as often as the Bucs did last season.
The eloquent Verner confirmed what Joe suspected, that there is a significant learning curve here for him, versus what he experienced as a Pro Bowler in Tennessee.