Saffold Would Offer Intriguing Options
March 7th, 2014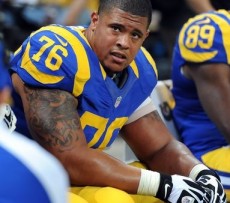 A few months ago, the Bucs headed out to play the Kellen Clemens-led Rams in St. Louis and caught a break to start the game. Rams beastly left tackle Jake Long blew his knee out on the opening snap.
In stepped versatile Rams guard/right tackle/left tackle Rodger Saffold, and the Bucs didn't take advantage one bit.
Clemens threw at a 70 percent completion rate, and Zac Stacey had another 100+ yard day on the ground.
Saffold, a four-year veteran at 25 years old, will hit the free agent market in a matter of hours, the St. Louis Post-Dispatch reports this morning, and Joe finds Saffold awfully intriguing, given the Carl Nicks mess and the uncertainty across the entire Bucs' offensive line. At 6-5, 332 pounds, the guy could represent a whole lot of options for the Bucs on a host of different levels.  
The Rams claim Saffold is a priority to re-sign but they haven't settled on money and he's expected to test the market. The consensus is he wants starting left tackle money and the Rams only want to pay him guard cash, which is lower.
After his first three seasons at left tackle, Saffold was moved to right tackle this year and showed his versatility at guard. He's known as a punishing blocker who can also move in the running game.
"Rodger's a tremendous athlete and when healthy you could put him up there with some of the best in the league," Rams head coach Jeff Fisher said after the Bucs-Rams game. "What we've done in the run game has involved him pulling."
The Post-Dispatch claims Saffold has diverse interest across the NFL.
Complicating matters with Saffold is the fact that he's drawing interest both at tackle and guard. Good tackles generally make more money than good guards.

It's clear the Rams are more interested in Saffold at guard, although if he re-signs he could open the season at left tackle if Jake Long isn't ready following knee surgery last January. Some in the industry believe Saffold's next contract — wherever it is — will come in excess of $6 million per year.
Yesterday, Joe wrote that the Bucs should steer clear of injured players. Saffold, who was the first player taken in the second round of the 2010 NFL Draft, has missed time during his career, but there's no question he's healthy now. Joe's curious to see if the Bucs call Saffold in for a visit.