Report: Bucs Trying To Trade Revis Quickly
March 10th, 2014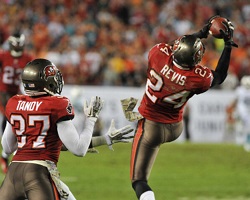 Update 9:16 p.m.: Adam Schefter is now reporting Revis will be cut Wednesday afternoon if he's not traded.
It's no surprise there's demand across the NFL for Darrelle Revis, and it's no surprise trade chatter is heating up as the clock ticks toward the sounding of the free agency dinner bell.
Joe's friend and reliable SiriusXM NFL Radio voice and FOX Sports writer Alex Marvez is Twittering tonight that the Bucs are the ones driving a potential Revis trade.
@AlexMarvez – Again, @TBBuccaneers really trying hard to trade Darrelle Revis. Hoping to strike a deal pretty quickly. Not sure of suitors yet
You can trust that Marvez is not tossing crap against the wall. He's legitimate.
Now just because the Bucs are trying to deal Revis, that doesn't mean they will. The return has to be there.
Last week, the Boston Globe suggested a Revis deal to New England that would potentially return the Bucs the Patriots' first round pick plus standout rookie cornerback Logan Ryan, who earns peanuts as a third-round pick in 2013.
Joe trusts Lovie Smith implicitly on the defensive side of the football. If Lovie did a deal like the one proposed, then Joe would get it. The reality is Revis' $16 million a year can be used to add a load of talent to the Bucs, and recouping a first-round pick and a legitimate starter isn't anything to sneeze at. Trading Revis also means the Bucs could keep their 2014 third-round pick, rather than sending it to the Jets to complete last year's Revis trade. Instead, the Bucs would send their fourth-rounder this year.
If Revis is dealt, then Joe would be stunned if Charles "Peanut" Tillman isn't wearing that funky new Bucs uniform soon after.