Glennon, Johnson Rack Up Performance Pay
March 24th, 2014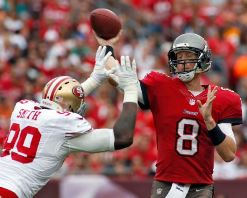 The NFL has a fancy system that essentially rewards players for playing above and beyond their draft status and salaries.
The 2013 winners were announced today at the NFL Owners meetings in Orlando.
The Mike Glennon Mob can raise a glass for No. 8, who will reap an additional $183,209.
Leonard Johnson, undrafted in 2012, grabbed the biggest share on the Bucs with $208,864. Tim Wright was right behind him at $200K. Among other notables, Akeem Spence pulled in $181K, Johnthan Banks was awarded about $145K and Mason Foster scored $133,268.
The NFL allocates $3.46 million per team. Per the documents posted on CBSSports.com, players don't get the cash until April 2016. That's a pretty sweet forced savings.
For those wondering, stabbing victim Mike Williams' share is $5,345.63.